Gary and I went on a week long adventure at the end of July 2002. Here is a brief journal of our trip.
Day 1 -- Lots of Driving
We started out by driving up to the Lost Coast of California; we stayed at the Shelter Cove RV Camp Ground. Shelter Cove is not much of a town, consisting of a few hotels and restaurants, the campground, and an airstrip. There is a grocery of sorts, but don't try to buy bananas there! The Lost Coast is part of the King Range National Conservation Area run by the US Bureau of Land Management (BLM.) It's about 60 miles south of Eureka along the Pacific Coast. It took us about 5 hours to get there from Fremont, taking 101 up to Redway and then due west from there. The campgrounds don't look that great when you first get there (basically it's mainly RVs packed in close, with about 20 sites for tents along one edge.) But, the people there are extremely friendly and quiet, and the bathrooms and showers, though a bit of a walk away, were clean.
We set up our campsite right next to the golf course and airstrip. Gary got stung by a yellow jacket on his finger within an hour of our arrival. We used the rainfly on our tent for the first time, and it's a good thing! It was cloudy and foggy the entire time we stayed there, and the first night the fog was so low that it felt like it was raining. Our camping neighbors had been backpacking for weeks, hiking up from Mexico. They had two dogs with them, who were pretty well behaved, until their owners went to get something to eat at night. One of the dogs broke loose because there was a skunk on the golf course. This was exciting because we were a little scared of the dog, and much more scared of the skunk. Eventually the skunk went away after inspecting our tent and picnic table, and the dog went back to his post after inspecting our tent, too.
Day 2 -- We walk up the Lost Coast
Our tent was covered with water the next morning (but the rainfly worked great!) We went on a 4 mile hike along the Lost Coast (2 miles up and back) starting at the Black Sands Beach trail head. There was a small group of kids there when we started, but otherwise we were alone, and even the kids walked so far in front and behind us that we felt alone. The beach there consists of heavy black sand close to the shore, gradually turning into larger pebbles as it moves away from the water. It can be extremely hard to walk here, since your feet sink in the sand in many places.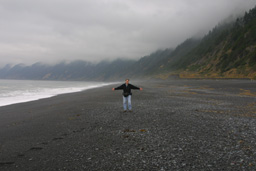 Unlike most beaches we had been to, there was little in the way of animal life on the shore. We found some dead crabs, and a couple of weird sea creatures that we poked at with a stick. Gary found a starfish (aka sea star), and a sea lion (we think) followed us in the water for a bit.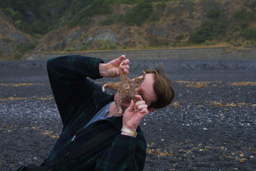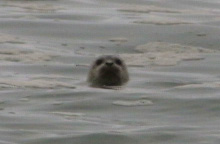 After walking for about a mile and a half we came to a huge rock pile. We rested here, and decided to keep walking to an even 2 miles. We mused about whether the walking would be easier with snowshoes, and the benefits of having a camel in the sand.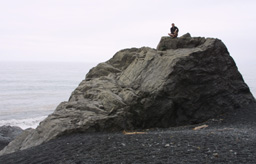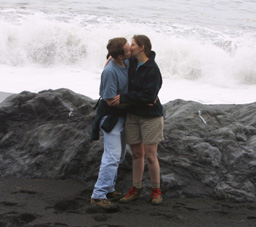 After finally making it back to camp, we took a drive in search of food for dinner. The little store at the campground had almost nothing (except for fish-n-chips that Gary had for lunch) and pointed up to the "store up the road." This store, which was quite a ways up the road, also had little in the way of fresh food, so we trekked into Redway for a real store. We made vegetarian hobo dinners on the grill, with portobello mushrooms, onions, bell pepper, and zucchini, plus corn and garlic bread on the side. And banana s'mores for dessert! We had new neighbors the second night, and we gave them some firewood since they had arrived after the store closed. They gave us a bottle of sparkling cider in return. The second evening wasn't nearly as wet and foggy as the first, and we actually got a bit of a sunset.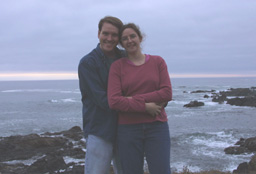 ---
All photos and text copyright 2002 by Gary Snethen and Jennifer Griffin